What Does a Pontoon Boat Look Like?
Last Updated on September 29, 2022
In order to answer the question of "what does a pontoon boat look like?", it's first important to understand what a pontoon boat is.  
A pontoon boat is essentially a large, flat-bottomed boat that sits low in the water and has multiple tubes or pontoons supporting it.  This interesting design makes them perfect for cruising on lakes and rivers. Pontoon boats can vary in size, but they are typically around 20 to 30 feet long. 
So, if you are curious about pontoon boats, keep reading! We will cover everything you need to know.
Buying a Used Pontoon Boat
Do Pontoons Have a Toilet?
If you're planning a day out on the pontoon and worried about where to "go" should nature call, have no fear! Most pontoons do in fact have a toilet. However, it's important to keep in mind that the type of toilet will vary from boat to boat.

The most common type is a marine head, which is similar to a household toilet except that it uses seawater for flushing. Some boats also have porta-potties onboard, which are self-contained units that don't require any plumbing. And finally, some luxury pontoons even come with full bathrooms complete with flush toilets and showers!

So whatever your needs may be, there's likely a pontoon out there that has you covered.
What is the Difference between a Pontoon Boat And a Regular Boat?
A pontoon boat is a flat-bottomed vessel, typically used for recreation, that is propelled by either oars or a motor. A regular boat is any vessel designed for the transportation of people or goods on water. The term "regular boat" can refer to anything from a small rowboat to a large cargo ship.
What is the Point of a Pontoon Boat?
Pontoon boats are much more affordable than other types of boats, and they can be just as fun. Whether you want to fish, swim, or just relax in the sun, a pontoon boat can give you everything you need.
One of the best things about pontoon boats is that they are very stable. This makes them perfect for families with small children who want to enjoy time on the water without worrying about tipping over. 
Pontoon boats also have plenty of room for everyone onboard, so you can invite all your friends and family along for a day out on the lake.
If you're looking for a relaxed way to enjoy time on the water, then a pontoon boat is definitely right for you. With their low cost and great stability, there's no reason not to try one out!
What Type of Boat is a Pontoon Considered?
A pontoon boat is considered a type of flat-bottomed boat, typically used for pleasure trips on calm waters. Pontoon boats usually have two metal pontoons (also called tubes or logs) that support a flat deck located between them. Some pontoon boats also have an outboard motor mounted on the back, while others are powered by an inboard/outboard engine.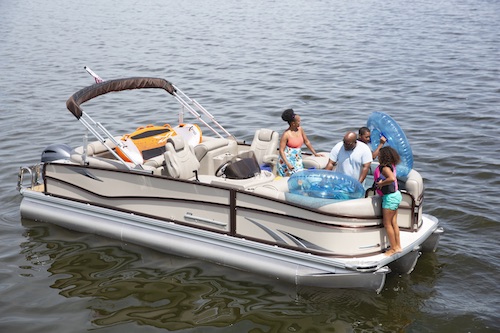 Disadvantages of a Pontoon Boat
There are a few disadvantages of pontoon boats to consider before making your purchase. While these issues may not be deal breakers, they are something to keep in mind. 
One of the biggest disadvantages of pontoon boats is their size. They tend to be much larger than other types of boats, which can make them difficult to maneuver. Additionally, pontoons are not as fast as other types of boats, so if speed is a priority, you may want to look elsewhere.
Another downside to pontoon boats is that they can be quite expensive. Because of their size and features, they often cost significantly more than other types of boats. If you're on a budget, a Pontoon boat might not be the best option for you.
Finally, Pontoon Boats can be less stable than other types of boats due to their flat bottom design. This makes them more susceptible to waves and choppy waters. 
If you'll be spending time in rough conditions, you may want to consider another option.
How Much is a Pontoon Boat?
How Much is a Pontoon Boat? A pontoon boat is a great investment for anyone who loves spending time on the water. But how much does one cost?
The answer varies depending on the size, features, and brand of the pontoon boat. Generally, you can expect to pay between $15,000 and $30,000 for a new pontoon boat. Of course, there are always exceptions to this rule.
You may be able to find a used pontoon boat for less money, or you may decide to splurge on a high-end model that costs more than $30,000. Ultimately, it all comes down to your budget and what you're looking for in a pontoon boat. 
To get an idea of how much different pontoon boat cost, let's take a look at three popular models:
1. The Sun Tracker Party Barge 20 DLX is one of the most affordable pontoon boats on the market. It has a length of 20 feet and can accommodate up to 10 people. Prices start at around $15,000.  
2. The Bennington 22 SLX is another popular option with a length of 22 feet and room for 11 people. It comes with plenty of luxury features like LED lighting and premium upholstery. Prices start at around $27,500.  
3. If you're looking for something truly luxurious, check out the Regency 254 DL3. This top-of-the-line model has a length of 25 feet and can accommodate up to 13 people comfortably. 
Prices start at around $32, 500. As you can see, there's quite a range in prices when it comes to pontoon boats. But no matter what your budget is, there's sure to be a pontoon boat that's perfect for you!
Types of Pontoon Boats
There are many different types of pontoon boats, each with its own set of benefits and features. 
Here are some of the most popular types of pontoon boats: 
Fishing Pontoon Boats: These boats are designed specifically for anglers, with features like live wells, fish finders, and rod holders. They usually have a flat bottom that makes them stable when fishing in rough waters. 
Party Pontoon Boats: As the name suggests, these boats are perfect for parties and entertaining guests. They often have features like built-in coolers, stereos, and sun decks. Some party pontoon boats even come equipped with a bar! 
Luxury Pontoon Boats: For those who want the ultimate in comfort and style, luxury pontoon boats offer all the bells and whistles. From heated seats to full kitchens and bathrooms, these boats have it all.
Conclusion
Pontoon boats are a popular choice for boaters and those looking for a little extra space on the water. If you're in the market for a pontoon boat, it's important to know what to look for before making your purchase. 
We've highlighted some of the most important features to consider when buying a pontoon boat, so you can be sure you're getting the right one for your needs. 
Have any questions about pontoons? Let us know in the comments!